"India's Northeast is not represented in fashion," says designer Jenjum Gadi – Times of India
By
admin
on March 5, 2021
That India's Northeast is usually either exoticised or misrepresented is common knowledge. And the same trickles down to fashion too. Delhi-based Arunachal Pradesh designer Jenjum Gadi feels that when it comes to promoting northeast in fashion, it's a curious case of misrepresentation, working with the wrong professionals or even presenting only one side of the talent – its craft but not the modern interpretation. And that is something Gadi wants to change. For now, the designer is on a high after designing the official uniforms for Delhi Police' first-ever all-women pipe band. Gadi, who still is self-effacing boy hailing from a small village in Arunachal, was felicitated at a ceremony for his work and was truly touched by the experience. He talks about the assignment and what else he's working on.
How did the assignment come about?
For me, this was a first. I have never designed uniforms before and the whole experience and the felicitation ceremony was like a dream come true for a boy from a small village in Arunachal. The assignment came my way when I was on my year-end vacation back home towards the end of December. I got a call from Robin Hibu, Special Commissioner of Police (and the first IPS officer from Arunachal), if I was interested in designing uniforms for Delhi Police' first all-women's band. I knew Mr Robin from earlier as he runs an NGO called Helping Hands for assisting Northeast people settle down in Delhi – be it students, reporting racist attacks or even helping patients coming in for treatment. Since I too am vocal about northeast issues, we had earlier connected and bonded over social media. So, when the band was being formed, he thought of me.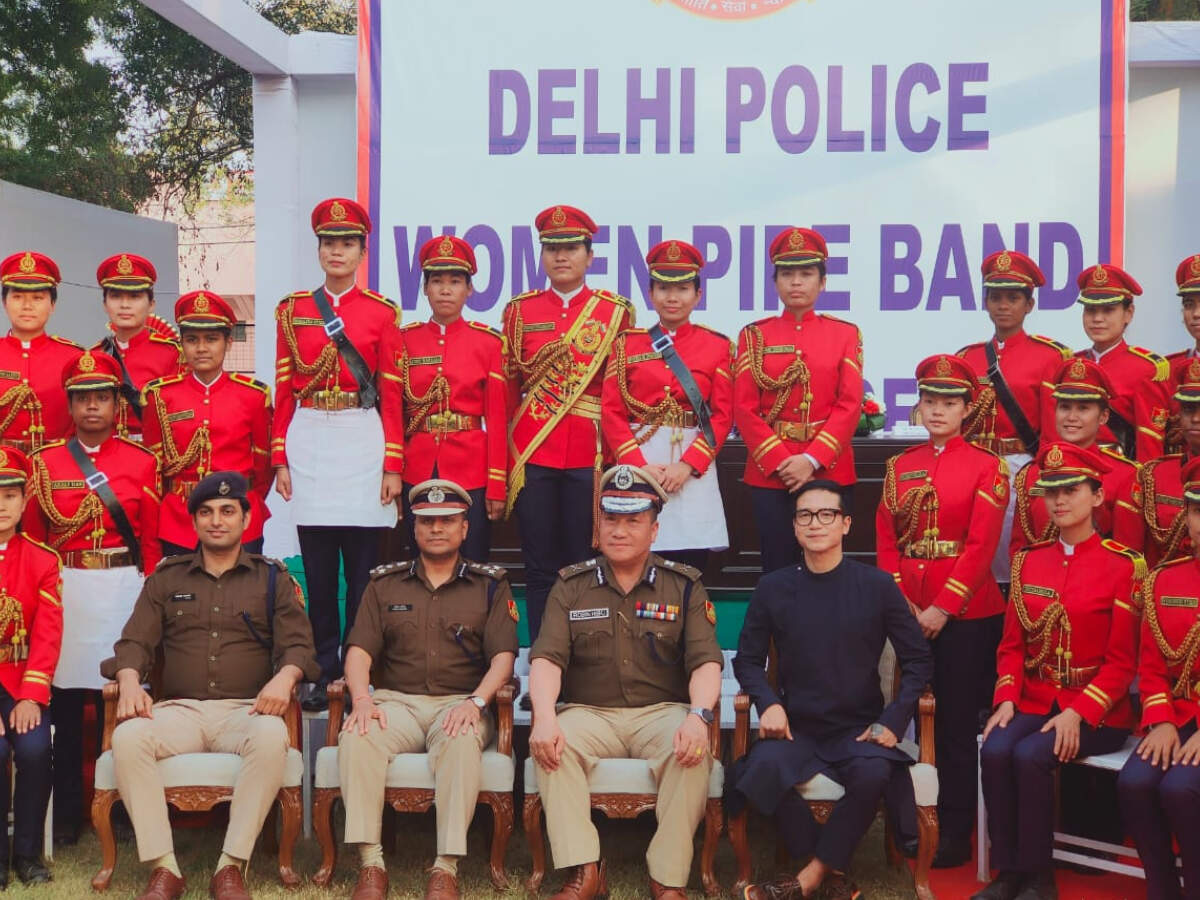 Was it easy to design uniforms?
There was a very short turnaround time, considering they wanted it ready by March. Still being in my village, I called my assistant in Delhi and got working. Over several Whatsapp messages we finalised the design. I cut my holiday short and came back for the production. Designing uniforms – especially for a government organisation – is not easy. You have to work around so many restrictions in form, in placement or in cut. You can't be too experimental. For instance, I wanted the pockets done differently but was told it can only be on the right and can't change placement. For that matter I couldn't cut the jacket in a certain cut because only the officers' wear that. So there were limitations to how much you can experiment as you have to follow the rank and order. So my biggest challenge was to design something that's familiar yet different. I picked the colour red, as it's visible from far and worked on the cut to make it classic and sleek. The idea was to make it visible, classy and sharp.
The fabric had to be wrinkle-free, easy to wear and easy to manage. So I went for a polyester mixed with cotton. But even with all the restrictions, we managed to create a look that'd stand out in the crowd. It's difficult for me to say how the design is different but when viewed in totality the cut really stands out. It was great learning experience to work within limitations. When it comes to official uniforms you can't skip a single minute details. The sketch I made had to be complete with all details from pockets to shoes – everything has to be put on paper.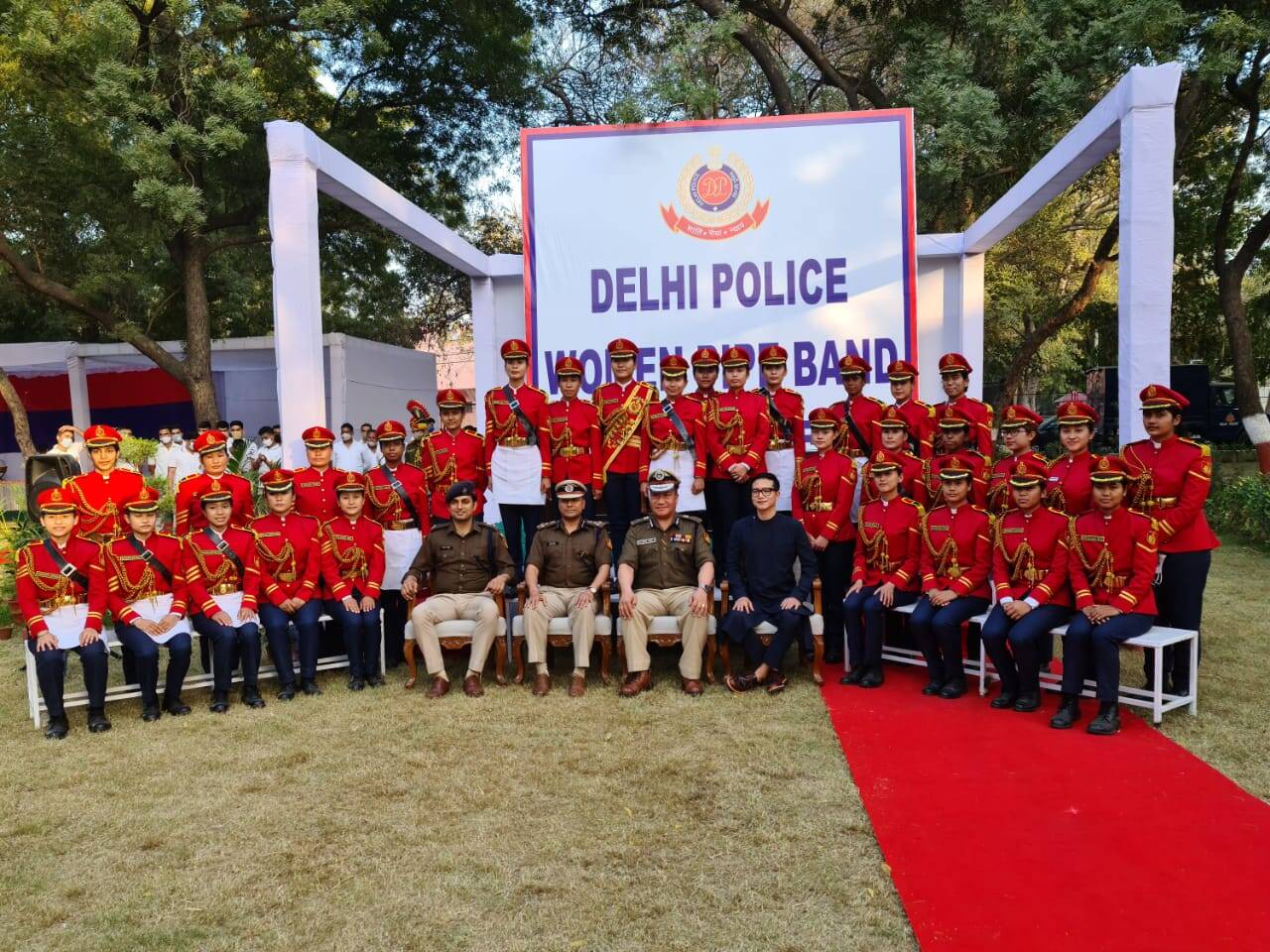 What was the felicitation ceremony like?
It was their way of showing appreciation as they were very happy with my work. I was truly honoured and touched because I wasn't expecting the special ceremony. I would have been happy with a certificate. But the function made me feel truly special. And for a boy from a remote village in Arunachal, it was a dream come true. The band played for me and I was given a medal. When I took the assignment it never occurred to me that my name would go down in history. But everyone involved with this project is happy that they managed to introduce something like this during their time – and in such a short turnaround too. In fact, for the prestigious project, I just charged a basic fee and even in that a part will go to Helping Hands.
Now that assignment is done and dusted, what are you working on next?
I only do menswear but this March I am coming out with my first-ever capsule collection of patchwork saris. I have used kala cotton and kept it extremely minimalistic – close to my design aesthetic. I have even designed a line of kaftans that will be available only in Taj Rishikesh. The market is still slow, so I am only releasing capsule collections and experimenting with smaller, targeted collections.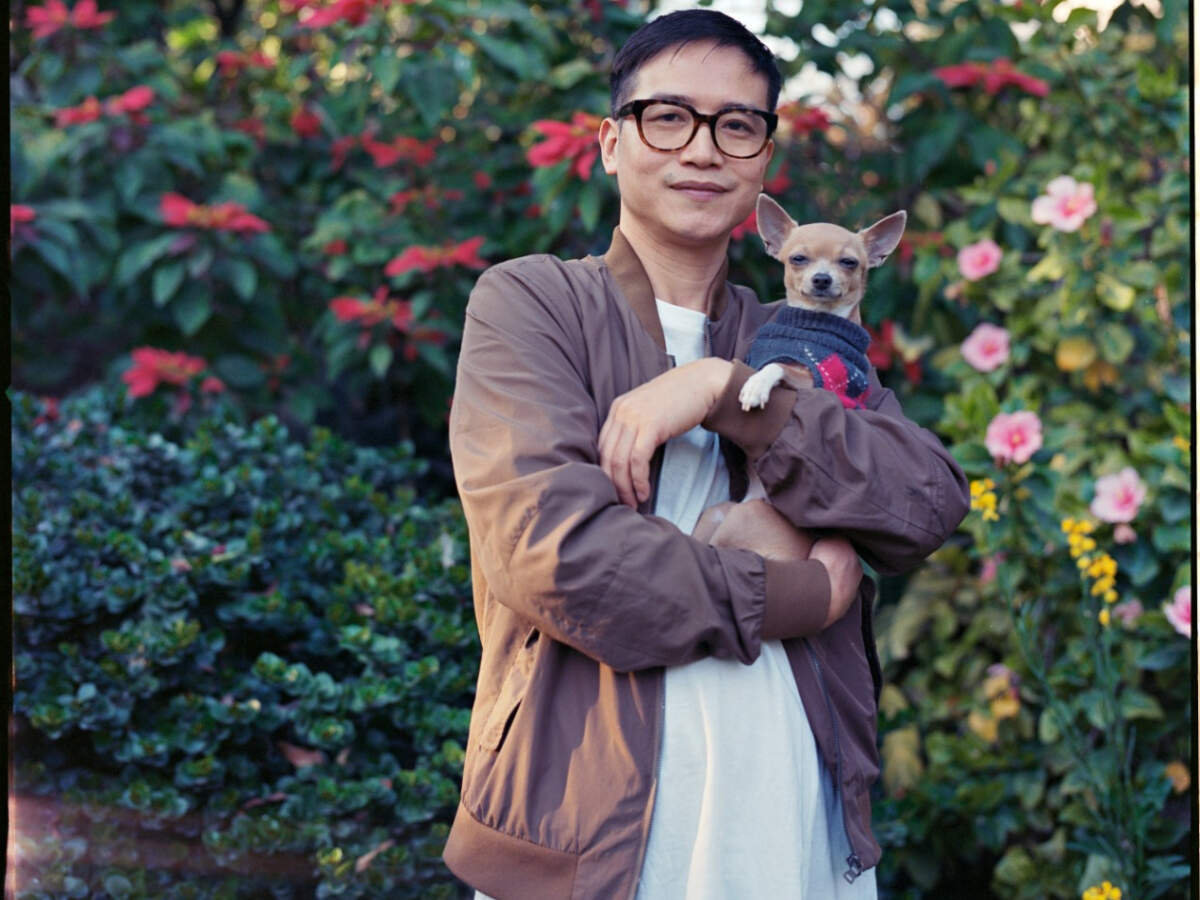 What other plans do you have for 2021?
I really want to work with the loin looms of the Northeast and promote it in a big way. (The loin loom or the backstrap loom is an ingeniously simple device made of bamboo and wood but the process is painstaking.) This year-end I was researching on this itself. Earlier I planned to get the cloth from Dimapur but that was working to be too expensive. I decided to source from my state where most of my cousins anyway work with the loom. There are many challenges to working with this textile. While on other looms you can weave 9-15 m at one go, here you can't go more than 1-2 meters. Whatever you make will have a joint and the design has to be minimal waste. Also, most people have started using acrylics but I want to work with cotton.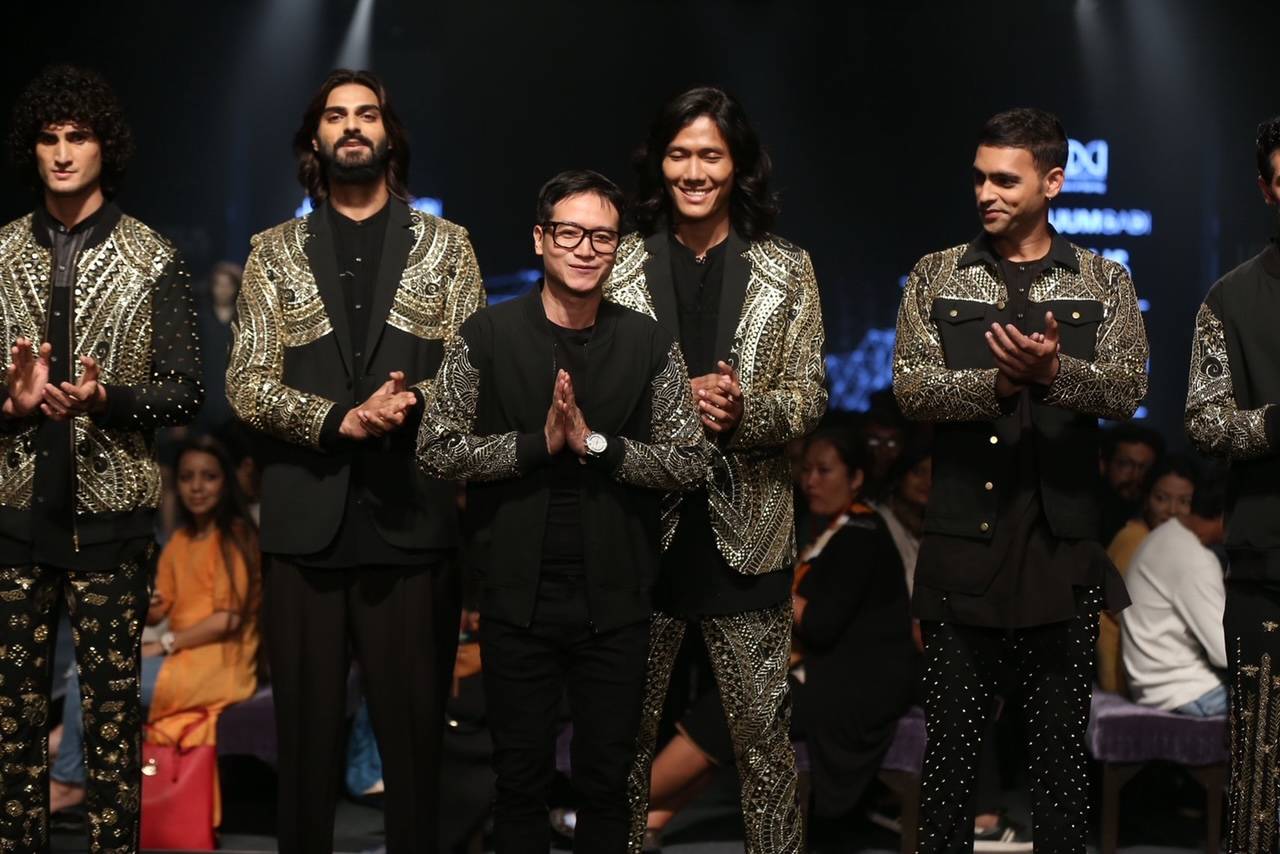 As someone from the region, what do you think is the state of the awareness regarding Northeast textile and crafts?
People do know about it and appreciate but the penetration is still low. There are many NGOs that work in the entire Northeast for promoting indigenous craft and textiles but there's a lot of work needs to be done. There's misusing of funds too. Even the promotion is not done right. It will be setting up a stall or a week in Dilli Haat. There's little involvement of people like us. So a lot of the craft remains very traditional and limited use. With my work with the textile, I plan to create a fusionwear line that can have a wider appeal. It will be modern yet carry the Northeast imprint. As usual, I plan to work with menswear. I don't intend to make anything typically northeast but the motifs I anyway use are very on those lines. I am always drawn to lines, geometrics as seen in the patterns from my region. So the collection will be representing northeast for sure.
When it comes to the region, it is highly exoticised. When trying the fashion, when does fashion end and cultural appropriation begins?
The cultural appropriation debate comes in if you are using the textile for profiting while not helping the craftspersons. And again if you disrespect the textile – by cutting it up, using it as a bedcover or a rug, etc. A lot of the weaves are typical to a tribe and signify their history. So one has to be careful on how you use it. There's a lot of significance to each pattern but hardly any literature available to educate the people on it. State governments have to step up to spread more awareness.
Finally, has 2020 changed the way your work?
Of course. Last year has been a big shift in thinking. I decided to focus on making less clothes and not release collections randomly. A reason why I am primarily working on capsule collections. It was a year of make do and I realized I can work with less and with fewer people to create more meaningful work. This is the era of capable, multi-tasking workforce. There's no need to make big collections but better to make more focused ones.

Source Article from https://timesofindia.indiatimes.com/life-style/fashion/designers/indias-northeast-is-not-represented-in-fashion-says-designer-jenjum-gadi/articleshow/81334434.cms
"India's Northeast is not represented in fashion," says designer Jenjum Gadi – Times of India
https://timesofindia.indiatimes.com/life-style/fashion/designers/indias-northeast-is-not-represented-in-fashion-says-designer-jenjum-gadi/articleshow/81334434.cms
https://news.google.com/news/feeds?hl=en&gl=in&q=fashion&um=1&ie=UTF-8&output=rss
"fashion" – Google News
Google News